---
Date:
28/05/2018 · 30/05/2018

Location:
Berlin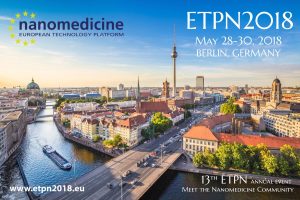 ETPN2018, 13th annual event of the European Technology Platform on Nanomedicine, scheduled from May 28–30, 2018 will take place right in the center of Berlin (Germany)
This event is unique with the participation of about 200 industry-leading decision-makers, academic and clinical research contributing to the development of nanomedicine and emerging medical technologies in Europe. This year, the two main topics of the conference will be a) the ongoing clinical validations of innovative Nanomedicines for patients and b) the convergence of smart health technologies:
Keynotes by Dr. A.J.M. van den Eijnden-van Raaij (hDMT) and Dr. Claire Patterson (Astra Zeneca)
Clinical Nanomedicine & implications in clinical practice
Strategic vision for the future of Healthcare in Europe
Translation of best Nanomedicine & HealthTech innovations to the market
Funding opportunities / Brokerage session
Current European projects in Nanomedicine (H2020 & EuroNanoMed III)
Pitch me up sessions! Selected short talks (submit your abstract)
Poster exhibition (to be confirmed)
General Assembly of the ETPN association on May 28th, 2018 (for members only)
For further information, registration, accommodation and abstract submission please follow the link:Welcome to ETPN 2018!